About Tamaura
The east area of today's Iwanuma was once a village called Tamaura; that village merged with the town of Iwanuma to the city of Iwanuma in 1955. The name Tamaura means "beautiful coast," and it remains as part of Tamaura Elementary School and Tamaura Junior High School, among other locations. There are no highlands in the surrounding area, so Tamaura is perfect for producing various crops, such as rice.
About the Tamaura Nishi Collective Relocation District
As residents wished for the rebirth of their homeland, they developed Tamaura Nishi as a destination zone for Iwanuma's collective relocation project. This location was chosen because it is near schools and other public facilities. It is a compact community where those from the six affected districts (Ainokama, Fujisone, Ninokura, Hasegama, Kabasaki, and Shinbama) came together. Both public housing and rebuilt private homes have been built in this 20-ha area.
The Tamaura Nishi DistrictPlanning Committee has discussed diverse matters such as formulating a master plan, placing communities, developing public facilities, and finalizing the town planning rules. Would-be residents and experts formed this new committee. Relocating residents took the initiative and held 28 meetings in a workshop format.
Construction started in August 2012, and the first batch of land was handed out in December 2013; the second batch was completed in March 2014, and the third batch was completed the following month. Public housing was handed out in February 2015.
Community spaces and commercial facilities were built one after another, and then, on July 19, 2015, the citizens held an opening ceremony for the Tamaura Nishi community. The citizens are grateful for the support they have received, and their reconstruction are still going on.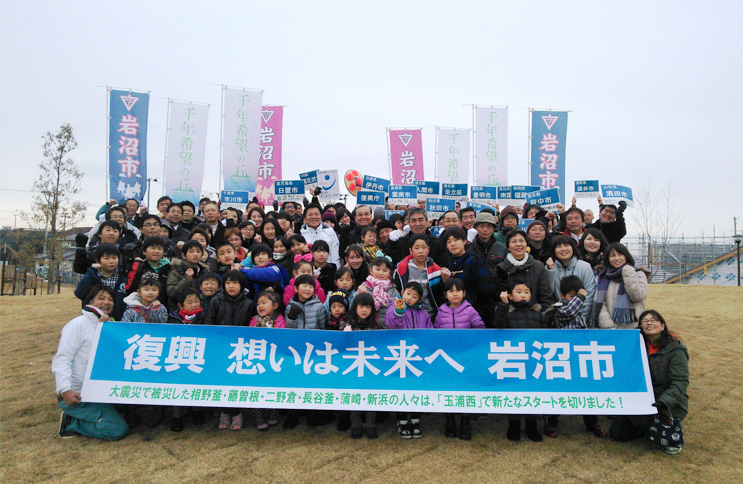 Related material
・Tamaura Nishi's Path Toward the Future (July 2015, Iwanuma City)
 

PDF(10232KB)
Details
・About the Reconstruction Development Project (Iwanuma City)